As illness is going around our community, we will do our best to keep classes running, and kids participating and will only cancel classes as a last resort.
If that happens, emails will go out immediately to families, please make sure your contact info is up to date!
SORRY- We are unable to accept Drop-Ins at this time
Gymnastics BC Membership
All Chimo Recreational program participants must have a current GBC membership. This non-refundable $55 fee is valid from Sept 1 to August 31 of each year and is not prorated.

Competitive programs must also have a current GBC/Can Gym insurance, valid from Sept 1 to August 31 of each year, this is a $165 fee, with no proration.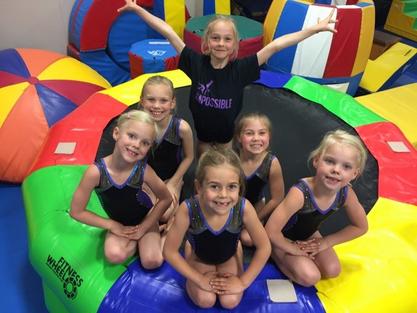 Registration Policies:
Every child who attends a class at Chimo Gymnastics must be registered and have paid mandatory insurance fees. Attendance is taken at the beginning of each class and unregistered students will be directed to the Chimo office. Coaches do not have the ability to register students.
TRANSFERS
Space permitting, transfers between classes are permitted within the first two weeks of the session. A $15.00 administrative charge is applied.
CLASS CANCELLATIONS
Under enrolled Classes
Chimo reserves the right to cancel classes that do not meet minimum enrollment and will cancel classes with an enrollment of 1–3 students. Under most circumstances, cancellations will happen one to two weeks prior to the start date and families will be notified via phone and email. Students from cancelled classes may be transferred to another class free of charge.
Weather or other unforeseen circumstances that force Cancellations
Cancellations are based on the school district, Comox Rec Center and Chimo's best judgement. Classes will not be rescheduled or refunded.
COVID-19
In case of government gym closures due to COVID-19, that are 2 weeks or less, no refund or credits will be given. Closure of 3 weeks or more, refunds will be applied, with a 5% holdback to cover online charges.
In the case of classes being cancelled due to staff shortages, (covid), refunds for the cancelled classes will be given. Refunds will not be processed until the session is complete.
AGE
Students enrolled in sessional programs must be the age of the specific class by session start date. Students enrolled in year-long programs must be the age of the class as of December 31. Chimo Gymnastics reserves the right to cancel a participant's registration in a program or transfer participants who have been registered in an incorrect age category into the appropriate class.
LEARNING NEEDS FOR NUERODIVERSE PARTICIPANTS
Chimo works to accommodate the needs of all students. Parents/guardians are asked to inform the club at the time of registration of any behavioural or specific learning needs of their children. We are not experts in the field of neurodiversity, however, with an understanding of the challenges, we can work together to better accommodate and deliver a rewarding experience for each participant.

ADVERTISING / MEDIA AND PUBLICITY
Chimo reserves the right to photograph and film students for advertising and publicity purposes and use these photos and videos at no charge. Chimo may from time to time collect photographs, video or electronic images of athletes for publication on the club's website or in other publications for the purposes of recognizing athlete achievement, promoting club activities or events, or informing the club community and members of the public about club programs and activities
NSF Charges:
$25.00 will be charged for returned cheques, returned PAD payments, or declined credit cards.
Missed Classes
We are not able to offer make up classes or refunds for missed classes other than for reason listed.
Registration Fee: Non-refundable and Mandatory
A mandatory, non-refundable insurance fee of $55 is required for all participants upon registration. Insurance is valid September 1 - August 31.
Insurance form is to be filled out during the time of registration.
Waitlist
If a spot becomes available in a Chimo Gymnastics Club Program that you were wait-listed for, you will receive an email notification. You then have 24 hours to click the link provided to register for this class or the spot will go to the next family on the list.
Once you click register on the email, the clock stops, and you must complete the registration including payment to secure the spot. If you don't compete payment once you've started, you will lose the spot and be removed from the waitlist.
If you have registered your child for another class and want to be removed from it, please send the office an email (info@chimogymnastics.ca) and we will withdraw and refund your account.
Refund/ Withdrawal Policy: Rec and preschool classes, camps, parkour, school groups, homeschool.
The registration fee is non-refundable ($55).
Withdrawals from classes up to 24hrs before the session begins
Withdrawals from classes within the first 2 weeks of the session: 80% refund of the remaining classes.
No refunds will be given after the second week of a session.
Summer Camps:

Chimo needs notice of withdrawal 2 full business days before Camp starts to issue a refund.
Withdrawals within a camp week: No refund.

In the case of injury or illness with a doctor's note: a credit OR 80% refund of a pro-rated balance will be given.
A full refund or credit will be given for a class should it be cancelled due to low numbers.
With either credits or withdrawal, there is a 5% hold back on the fee to cover online charges
Any refunds for forced cancellations or closures due to staff shortages (covid) will not be processed until the end of a session.
*Chimo reserves the right to cancel classes or camps due to unpredictable circumstances or events.