SORRY- We are unable to accept Drop-Ins at this time
****CHIMO HAS ADDED NEW REGISTRATION POLICIES****
Before you go to the Checkout, go to your account info, make sure the member is the parent or legal guardian of the participating child(ren), with a birth date reflecting that of an adult of the age of 18.
If this information ISN'T correct, the system will not allow you to accept these policies and you will not be able to complete registration, which may lead to missing out the spot.
PLEASE MAKE SURE YOUR ACCOUNT INFO IS ACCURATE BEFORE REGISTERING FOR CLASSES OR CAMPS
WAG Competitive Programs: Train to Compete / Learn to Compete / Compete to Win
"The road to success is a staircase not an elevator"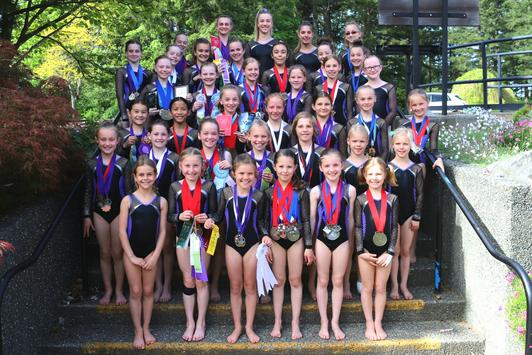 Women's Advanced Programs (WAG)

Competitive sport is a family commitment. Each family must seriously consider the amount of time, dedication and finances they are willing and able to commit to sport. In gymnastics, the majority of competitions happen on the lower mainland and as such require significant travel and time away. The season is long with competitions beginning in December and usually finishing in June.
It is also important to remember that competitive gymnastics is not a team sport. Each athlete will progress at different rates dependent on several factors. Progress on each apparatus often takes more time on one than the other. In order to be competitively successful athletes must be prepared for consistent training effort that involves high repetitions, regular attendance progress and competitions.
Coaches place athletes in specific programs based on several objective and subjective criteria including an athlete's competitiveness, ability to deal with success as well as failure, physical abilities and projected pathway of development and coachability. Age categories are determined by birth year while competitive category is determined by skill acquisition and consistency. Athletes may be moved from one program area to another at any time. Athletes are invited on a yearly basis to the program that best suits their needs and commitment as determined by the technical staff. Competition assignments will be based on readiness and at the discretion of the coaches.
Each Junior Olympic level has required elements of difficulty and composition. If an athlete has all requirements, the events are scored from 10.00. Athletes with less than full requirements may or may not be entered at an athletes' declared level. This is at the discretion of the coach.
Strength & Flexibility Testing
The strength and flexibility testing is an in-house tool Coaches are using to track an Athlete's progress and trends. By testing the Athletes in those areas, we use the results to build a suitable program for each individual. It also helps with injury prevention and long-term Athlete Development.
If Athletes test seems discouraging, please understand that this particular testing is used for all athletes 5 and up all the way up to a National level. It is a testing program being used throughout the entire career of an Athlete.
As athletes increase exposure to the sport, conditioning and flexibility training scores will increase over time.
Canadian Junior Olympic Program
(CJO Compulsory Stream Levels 1-5)

The Junior Olympic Program was developed with the belief that all athletes, regardless of their potential, must have a solid foundation of basic skills in order to advance safely. For athletes in the compulsory stream, these levels require consistent training and commitment with a minimum of 10hrs /week. Athletes are required to attend a minimum of five meets, including qualification for Compulsory Provincial Championships and the Championship if they qualify. Meet fees range from $100 - $150.00 per event. Travel and accommodation are in addition to meet fees.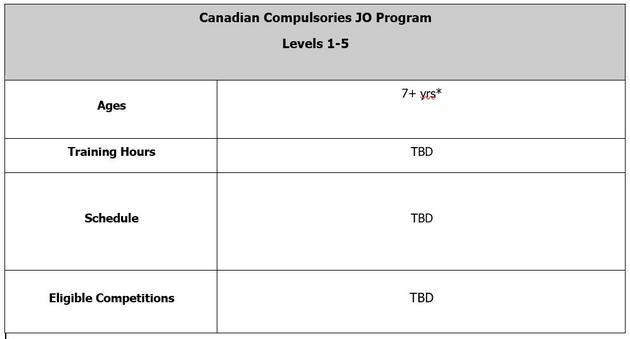 Canadian Junior Olympic Program
(CJO Optional Stream Levels 6-8)
If an athlete is identified and committed to attaining the requirements for optional routines at the provincial levels, (Jo 6-8) the training time and requirements increase significantly. In order to be competitive at these levels' athletes must train a minimum of 16 hours over a full year program. Regular attendance and progress is necessary to compete in these levels. Time off (particularly extended time off) will be minimal throughout the competitive season. December to June.
There are opportunities to compete for positions on provincial teams (i.e. Western Canadian Championships, BC Games). Training costs are dependent on number of training hours per week. There are usually five to seven competitions per year at this level at a cost of $100.00- $150.00 per event. Out of town events will be at additional cost.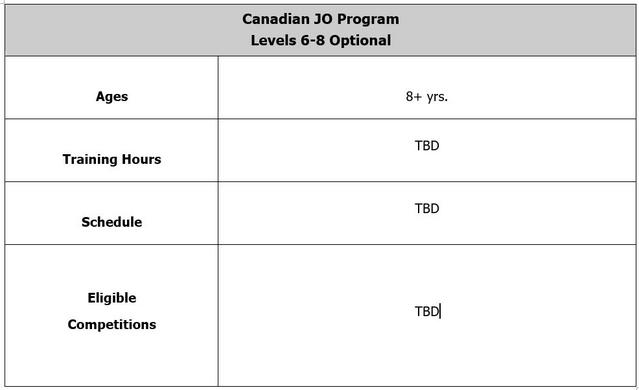 National Stream Pathway:
Aspire and CJO 9,10

Regular attendance, dedication to excellence and progress are important aspects of this level. Athletes will compete at 6-10 meets per season, as well as training camps or other activities.
At this level many activities require travel or are requested to attend events with little notice. We will make available as much advanced information as possible; however, we are often dependent on other organizations to book travel or circulate information. Please be assured we will communicate in as timely a manner as possible.Costs associated for this program vary depending upon the level of athlete, location and duration of events. College recruiting and scouting begins at the National level. Chimo coaches can assist with American University (NCAA) information and processes when required.